Her testimony has been termed as insensitive following the recent loss of Edochie's son.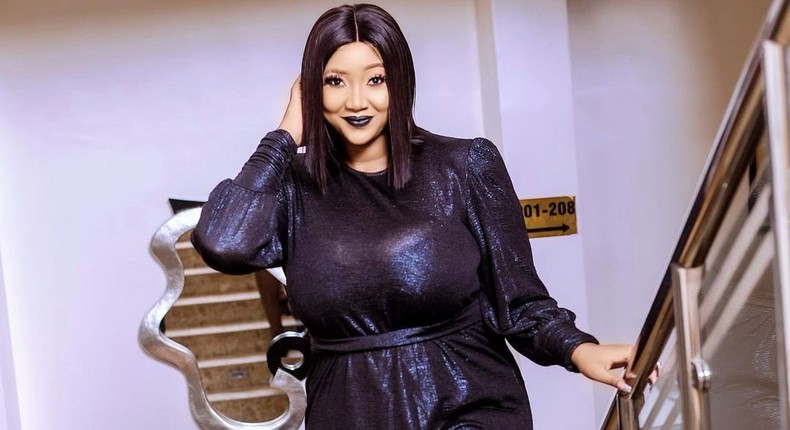 Yul Edochie's second wife, Judy, gets into trouble for controversial testimony [Instagram/JudyAustin1]
Yul Edochie's second wife, Judy, is facing major backlash over her controversial testimony.
In a video posted on her husband's official Facebook page earlier today, May 7, 2023, she is seen giving thanks to God for loving her and helping her through her pregnancies.
Judy said, "God loves me so much. I know it might sound strange to a lot of people but God loves me so much. I am so special from the time I was born; to my childhood, and youth until I gave birth to all my kids. Even till this last baby… I put to bed when it seemed as if it won't happen, that is God. He came through for me, he made sure that I am fine and that I came home with my baby and that I came out and that my baby came out. Go and ask around, so many people have died from this but I go through it and I come out and I'm still bouncing, dancing and laughing everyday."
Her testimony comes after the recent death of Yul's son, Kambilichukwu Edochie, his first son with his first wife, May. As a result, many have termed Judy's testimony as troubling and insensitive.
Taking to her Instastory, Big Brother Naija's Nina Ivy criticised Judy for not being inconsiderate. "What is wrong with this human?", she asked.
Nina Ivy criticises Judy [Instagram/Nina_ivy]
Former BBN housemate Venita Akpofure also shared her two cents on the video saying, "Omo, I'm adding Mrs May Edochie to my intense prayers. Cus I would be in jail."
Both Yul and Judy have not responded to the backlash.